It's easy to spend a lovely day in Palermo with all its wonders, but the one thing that can make a lovely day even better is tasting classic dishes of Sicilian cuisine in some of the best restaurants in Palermo.
If you're visiting Palermo you simply cannot miss La Vucciria, a whole district that sets itself apart with its unique smells and flavours, traditional and genuine.
It's an area considered number 1 for street food, the best of the best, not to be missed! A wonderful place, a market by day and by night a thronging hub of life full of great places to eat. You've got to go!
With so many eateries you'll be spoiled for choice, and if you're not prepared you might get confused about which place to choose. It's got to be said that la Capitale is a top choice to please all tastes, with typical street food as well as more sophisticated meat and fish dishes.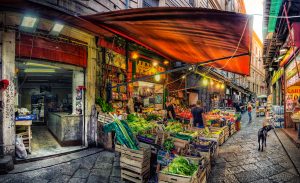 Here are our top 5 foods and the best restaurants in Palermo where you can find them:
Rice balls: Ke Palle Arancine D'Autore. The irony in the name perfectly reflects the nature of Palermitan people: joyous, welcoming and joking. In short, an infinite variety of foods for all tastes. Behind this name is a guarantee of quality which has allowed the eatery to expand to other parts of Palermo and Trapani. Their motto is "to innovate is our tradition" and whilst they make their delicious arancine in the traditional way, they're always innovating with different flavours and consistencies. Their inventions include: arancine made with pasta rather than rice; 'light' arancine cooked in the oven; the "Stekka", with everything inside, for those that can't make up their minds; and the "le vulcaniche" – they're all to try!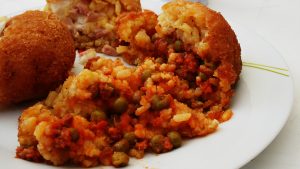 Street food: Panineria Friggitoria Chiluzzo. At Chiluzzo you'll find all the classic Palermitan street food, of good quality and low prices. The staff are very friendly and polite, wanting you to enjoy your food in peace. We highly recommend the mackerel panini, the spinach arancine, the "cazzilli", caponata, and don't forget the "babbaluci"
Fried foods: I Cuochini. Since 1826 this rotisserie has been making flavours that these days are hard to find. Close to the Politeama Theatre, inside the doorway of a courtyard, a famous small spot, tidy and clean with a large window separating the kitchen from the bar. On the counter every speciality of arancine, "panzerotti", wondeful timbales, savoury doughnuts, focaccia with chickpea-flour "panelle", croquettes, all prepared there and then. There's something for everyone!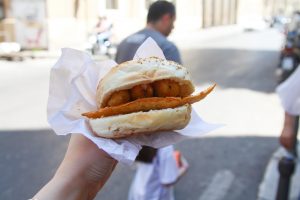 Meat: Meat Shop Macelleria & Fornelli. If we're going to talk about meat, this is the place and they are the experts. The meat is always cooked to perfection, fresh and flavourful as are all the well-balanced accompaniments. This restaurant really does deserve to be one of the top five best restaurants in Palermo.
Fish: Bebop Ristorante. Refined cuisine, simple and elegant, with friendly and polite staff. There is also the choice of a vegetarian menu. To go to Bebop means to eat some of the finest food, pleasing both to the eye and the belly!
If you would rather immerse yourselves in Sicilian cusine at 360°, we recommend you try the home restaurant experience having dinner in Palermo at the home of a Palermitan family, where they will cook all the classic Sicilian dishes for you. What better restaurant is there than this?