The Mt Etna location is the biggest active volcano in Europe and one of the highest in the world (at 3,350 metres above sea level). In June 2013 Mt Etna was listed by UNESCO as a World Heritage Site.
The reasons for which UNESCO decided to make this Sicilian volcano, a popular tourist destination, a world heritage site? "The craters, the volcanic ash, the lava flows and caves, and the great depression of the Bove valley, all make the Mt Etna location a special destination and an important centre of international research for volcanologists, geologists and other scientists," indeed, "it's notoriety, scientific importance, and its cultural and educational value render it a place of global importance" .
 Mt Etna rises up on the Eastern coast of Sicily, in the province of Catania. Unlike Stromboli, which is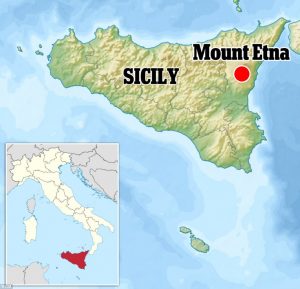 another Sicilian volcano in constant state of activity, Etna seems to always have a plume of smoke at its summit. On a regular basis Etna erupts, beginning first with a period of degassing and emitting of volcanic ash, followed by a lava eruption from its active craters. Sometimes there are periods of Strombolian eruptions, so spectacular that it attracts crowds of visitors from all around the world.
The last significant eruption took place in March 2017, when 10 people were injured after a lava exploision at 2,700 metres.
If you are planning to organise a Tour in the discovery of Sicily you simple cannot miss the unique landscapes that the Mt Etna location offers its visitors.
There are a range of ways to visit Mt Etna. You could take part in a thrilling jeep tour at sunrise or sunset, to visit the foothills of the volcano, and then after a short hiking mount Etna reach the perfect spot to watch the sunrise or sunset. If you've got more time however, you could instead visit Etna spending the night in a refuge on Mt Etna, and then visit the Sartorius mountains and a lava flow cave.
Another alternative is taking the Etna Funicular to the Refuge Sapienza at 2,500m, and from there taking a 4×4 to 2,900m.
Besides Etna, the other Sicilian volcanoes that are always active are Stromboli and Vulcano, on the Eolian islands. On the island of Vulcano you'll find many thermal waters and in a number of sites across the island you can see the gas emissions that rise up from the cracks in the land. Stromboli has a persistently explosive nature, erupting on average about every hour.
As well as the beautiful city of Catania, there are many more interesting cities near Mount Etna to visit in the surrounding area, beside the coast and at the foothills of the volcan: from the charming Taormina, to the UNESCO sites of Piazza Armerina and the Noto valley, and Syracuse and Pantalica.